Bathroom Cabinets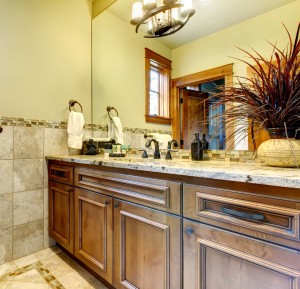 Bathroom cabinets can help make an old bathroom not only look great but also help provide space and storage solutions. When considering cabinets as a stand alone solution or as part of a larger bathroom remodeling project it is important to evaluate the various design and style options available.
A common theme that we come across with bathroom cabinets and most bathroom remodeling projects is space or the lack thereof. As part of our free no-obligation design consultation we typically start with evaluating the existing space and layout of the bathroom. By doing so we are typically able to make recommendation that help make more efficient use of space. We provide in stock cabinet solutions as well fully custom cabinet solutions to meet your exact design tastes and specifications.
When it comes to bathroom cabinets there are an endless array of options to consider including:
Wood Type
Frame or Frameless
Finish and Stain
Door Style
Custom Storage Solutions
If you are considering new bathroom cabinets or bathroom cabinets as part of a complete bathroom remodel, please feel free to contact Schrader Home Improvement Specialists, Inc. for a free no-obligation design consultation.
941-962-5801