Kitchen Design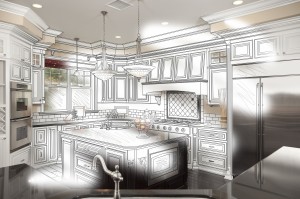 A critical part of any great kitchen remodeling project includes a formal kitchen design phase. The design phase is critical to help ensure that both form and function are achieved and within your total budget requirements.
Many things can be learned from your existing kitchen style and layout. By analyzing your current kitchen a list of likes, dislikes as well as "must haves" can be formed rather quickly.
As part of the design process a functional layout of your new kitchen should be carefully considered and should take into consideration how you will use your kitchen for cooking, entertaining, etc.  Additionally, cabinets, finishes, hardware, lighting, fixtures, appliances, flooring, etc. should also be discussed so that all the elements work together as part of the overall design, look and feel.
If you are considering a kitchen remodeling project and would like to learn more about how Schrader Home Improvement Specialists can help you, please feel free to contact us for a free no-obligation design consultation.
941-962-5801